Enjoy Some No Sugar Added Ice Cream For National Diabetes Month
by :
Heather
This post may contain affiliate links. Please read our
disclosure policy
for more information. 
This is a sponsored post written by me on behalf of Blue Bunny Ice Cream. All opinions are 100% mine.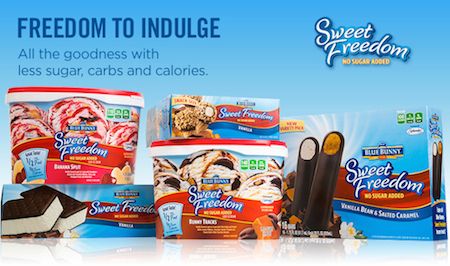 We are always careful of our sugar intake.
It's not that we need to cut it out completely. it's more about just being aware of it and making better choices. My inlaws don't have that luxury. With blood sugar issues they have to limit sugar, but that doesn't mean they have to eliminate treats from their lives.
Since November is National Diabetes Month I bought them a special dessert that is not only delicious, but also no sugar added… Blue Bunny Sweet Freedom! There are so many flavors available that I had a hard time choosing. They all sounded so good, but this time I bought Bunny Tracks! Peanut butter and chocolate, you can't ever go wrong with that!
Blue Bunny® has a full line of no sugar added products in their Sweet Freedom line including Snack Size Cones, Ice Cream Sandwiches and even Butter Pecan Ice Cream, among a buch of other great flavors!
These sugar free ice cream options are perfect for diabetics who need to watch their daily sugar intake.
No sugar added never tasted this sweet and I love that this is available for those who need to watch their sugar inake. As we get into the holiday season I'll be stocking up on
Blue
Bunny
® Sweet Freedom so that all guests at my home will be able to have dessert.
Sweet Freedom is the first national brand of packaged ice cream and frozen novelties to offer an extensive array of no sugar added options. Sweet Freedom treats taste indulgent while still meeting key nutritional needs for the sugar conscious consumer.
Be sure to follow Blue Bunny® on Pinterest and Facebook.
What is your favorite ice cream flavor?
Heather Delaney Reese is a Lifestyle and Family Travel Writer currently on the road with her family 150 days a year, sharing exceptional family memory making moments and life's everyday fun times. She is a big proponent of encouraging others to join her journey and become a professional blogger so that they too can make money at home and spend more time with their families.