This post contains affiliate links. We may earn compensation when you click on the links at no additional cost to you.
This is a sponsored post written by me on behalf of Universal. All opinions are 100% mine.
It has been far too long since our last movie night!
We had them all the time last school year… but then summer came and we spent every spare moment outdoors. Now that it's cooling off again we are ready for more nights watching some good movies together as a family.
When I saw that Back To The Future was being re-released, I knew it was the perfect time to have our next movie night.
I was so excited to share Back To The Future with my girls.
I grew up on this movie and Pete and I quote scenes from it all the time, so the girls have some idea what it was about, but they had no idea just how fun it is!
To make this movie night even more special I decided to make some special food to enjoy that are straight out of the movie! Starting with dehydrated pizza. This one was so fun! I even had the toppings added just like in the movie!
And for desert we had hoverboard cupcakes!
Since our movie nights are normally on busy weeknights I make sure that everything I serve can be easily made in just minutes. The cupcakes were bought from our local bakery and then I added cookies that had the shape of the hoverboards. These were so easy and fun to make. Emmy even joined in the fun and helped me put them together!
This was the easiest movie night ever. I think it took less than 10 minutes to put it all together and then it was all about some Back To The Future Fun!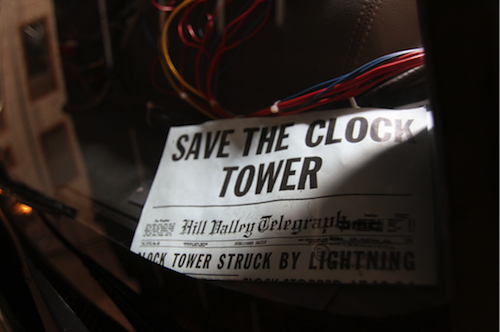 We talked about everything from the movie including the clock tower, to how important it was for Marty not to mess up the past… or else he could put the future in jeopardy! It really is an awesome series of movies!
Be sure to buy your own 30th Anniversary re-release of the Back to the Future series! It's available starting October 21, 2015 on physical and digital copies! The films will also receive a national theatrical re-release to help promote the 30th Anniversary, along with additional live events both from Universal and fans as well.
Cool fact – in the film Marty actually travels to October 21, 2015! That seemed so far away when I first saw the movie. I can't believe we are already there now!
What is your favorite moment in the movie?